Serving Metro Portland, OR
Servicing your home and business for the control of ants, bees, bed bugs, birds, spiders, termites, mice, rats, and many other pests throughout the Greater Portland Metropolitan Area of Oregon.
Areas of service:
Aloha, Banks, Beaverton, Cedar Mill, Clackamas, Cornelius, Forest Grove, Gladstone, Gresham, Hillsboro, King City, Lake Oswego, Newberg, North Plains, Oregon City, Portland, Scappoose, Sherwood, St. Helens, Tigard, Troutdale, Tualatin, West Linn, West Slope, Wilsonville.
CCB #43186
Customer Testimonials
Termites
Use our list of Termites below to help identify the type of pest that's bugging you:
Damp Wood Termite
King and queen bodies range from 1/2- to 5/8-inch. Nymphs range up to 5/8-inch. Soldiers range up to 3/4-inch in length. Kings and queens are brownish in color. Kings and queens have two pair of wings that are equal in size and shape and extend well beyond the tip of the abdomen.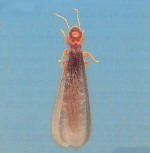 Damp Wood Termite Swarmer
Damp Wood Termite Soldier
Subterranean Termite
Worker: 1/8-inch in length. Soldier: Body is similar to that of the worker. Supplementary Reproductive: About 1 inch in length. Primary Reproductive: About 1 inch in length.
Subterranean Termite Swarmer
Subterranean Termite Soldier
Subterranean Termite Swarmer
Subterranean Termite Damage